– PIANO PARTS AND REBUILDING –
At Bill Kap Piano Company, we have been restoring pianos since 1960. Our process is professional, intricate and effective. Our team of piano restoration specialists will meticulously restore your piano back to its original condition. Once restoration is complete, the piano will be delivered back to you, tuned and ready to play! We can provide full or partial restoration for your piano so you can cherish it for decades to come.

Pianos are a huge part of a family's heritage. At Bill Kap Piano Company, we want to make certain that your piano heirloom is brought back to perfect condition so that it can be shared in your family from generation to generation. What a wonderful tribute for a family.

As well-respected specialists in the piano industry, Bill Kap Piano Company provides various levels of piano repair services. Aside from replacing strings, cleaning, and offering action regulation to ensure the top performance of your instrument, we also carry out major restoration. Nothing is too large!

If you are unsure what repair service your piano may require, our technical staff can provide a professional inspection. Of the dozens of piano repair services we offer, some of the more common work our clients have us perform includes:

• Action regulation and voicing
• String repairs
• Key repairs—Ivory and Plastic
• Tuning pin replacement
• Refinishing services
• Cracked soundboard shimming
• Complete piano rebuilding and refinishing

For over 60 years, we've developed and perfected piano repair, restoration and the rebuilding process. The quality of our work stands out in all the instruments we have worked on, which you can clearly witness by visiting our piano store on Euclid Avenue. Easy, free parking is available at the door.

Our carefully selected full-time staff of tuners and technicians offer concert quality piano tuning and a wide range of technical piano repairs. Bill Kap Piano Company's services are competitively priced, and we guarantee to be professional and courteous in all of our transactions.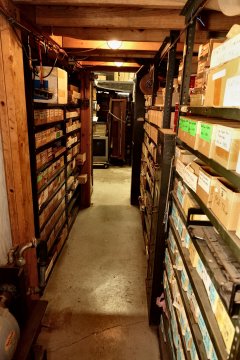 This is just one aisle of the many we have in our fully stocked Parts Department.
If you need a new or used piano bench, we have them. We've got keys, pins, strings—almost everything you need to replace or repair your piano investment. We special-order from all major piano manufacturers and suppliers.