We Offer EVERY SERVICE to
Keep YOUR Piano Perfect!
Piano Tuning • Appraisals • Insurance Claims
Restoration • Rebuilding • Regulation
– PIANO TUNING SERVICE –
The Bill Kap Piano Company serves all of Northeast Ohio, Akron, Canton, Medina and all of the surrounding communities.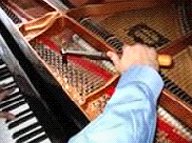 At Bill Kap Piano, tuning in private homes comprises the majority of our work. We will treat your home as if it were our own, and we provide the same quality care to your instrument. We use the traditional method of tuning by ear from one tuning fork. This is the method preferred by most concert artists, because it gives the most pleasant sound.
Most piano manufacturers recommend tuning twice per year. If your piano has gone without tuning for more than a year, it may have dropped in tension and pitch. If that is the case, please give us a call and we will explain your options and costs.
Our staff is also available for concert, school, church, and studio tuning. We have over 60 years of experience in the most demanding situations, and we have received numerous compliments on the quality of our work from performing artists and top venues.
Give us a call today for any of your piano maintenance questions.